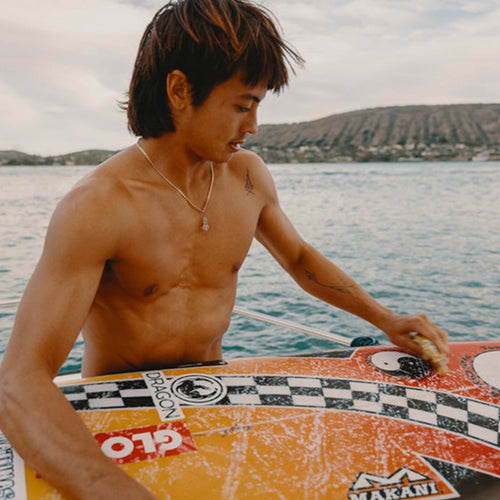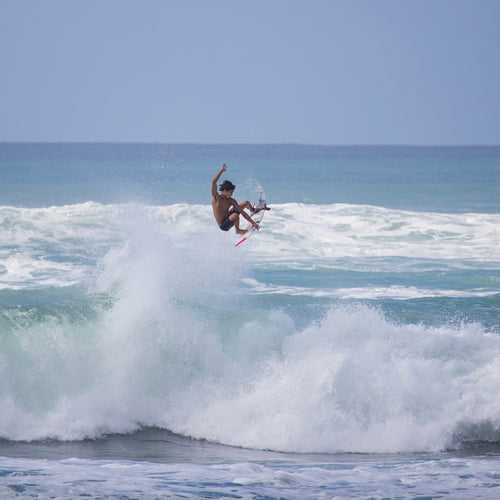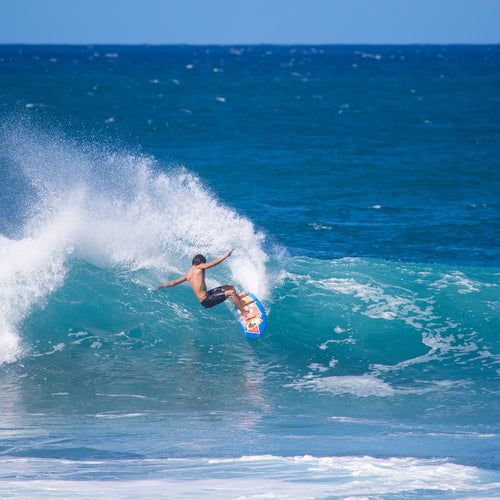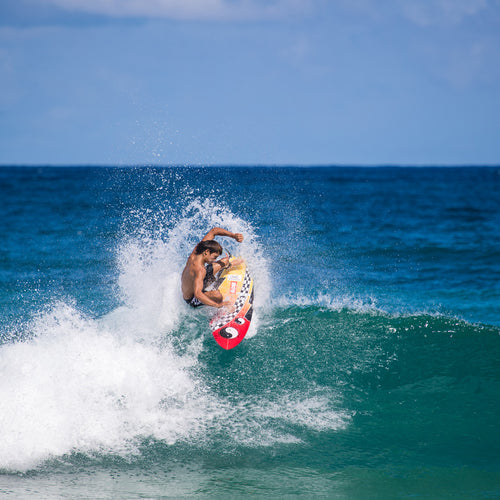 Koa Yokota
AGE:25
HOME TOWN:Waimanalo, Oahu, HI
SPONSORS:T&C Surf Designs, Globe, Matunas, Dragon Alliance, Good Good Honey.
FAVORITE BOARDS:The Saint by Glenn Pang and Twinnister by Makani McDonald.
IG: @koasurfklub
Koa is a multi talented surfer who represents the T&C lifestyle. He is passionate about surfing, skating, nature and music to name a few.
Koa has a Bachelors degree from UH in environmental studies. He is passionate about understanding our relationship as humans to the earth we live within. He grew up on a fruit farm in Waimanalo and is very conscience of the food supply and our impact on mother nature. He works on this effort through his family farm supplying farmers markets with their selection of fruits.
Koa is also a band member with the Fungi Queens. He plays guitar and sings in the band. Another passion that drew him to others with the same interest. Their band formed organically and they are currently playing live shows now that the pandemic is lightening up.
Koa has incredible surf style and loves to ride twin and single fin surfboards. He loves the speed and flow but brings them into modern performance, pushing them to new levels. We look forward to seeing him develop some new models with Makani McDonald and Glenn Pang.
Tiki Willis
AGE:19
HOME TOWN: Waikiki, Oahu, HI
SPONSORS:Town & Country Surfboards, Sisstr Revolution, KD Fin Designs, Banan
FAVORITE BOARD: Tanaka Pro model
IG: @tikiwillis
Tiki lives in Waikiki surfing her favorite spot in the world, Queens! Her dad Alika, taught her how to surf when she was a baby getting pushed into waves starting age 4. Her mom Dina would watch from shore or be out there ready to push Tiki back out to her dad. It was a full family affair.
Now when she surfs she loves to take out her High Pro by T&C/Tanaka. She's easy to spot on her hot pink with black rails longboard. When the waves are firing you'll definitely see her and the high pro model!
Outside of surfing she normally likes to read, go to the movies either by herself or with friends (she loves going to a theatre by herself), and she likes to have fun in anything she does. Her appetite consists of a lot of carbs and A LOT of chocolate, but her favorite food would have to be a banana açaí bowl from @banan. 
She grew up around some very inspirational women like Kelia Moniz, Megan Godinez, and Carissa Moore. Tiki looks up to them a lot!
Tiki has been a competitive surfer for as long as she can remember, either competing in her home town or on a different coast in another part of the world! She couldn't be more grateful for her surfing life! 
Kaiser Auberlen
AGE:19
HOMETOWN: Rocky Point, Haleiwa, HI
SPONSORS:T&C Surfboards, VonZipper, Leus, Futures, Dakine, Sun Bum
FAVORITE BOARD: TM1 by Glenn Pang
IG: @kaiserauberlen
Kaiser started surfing at the age of 5 years old. His father would take Kaiser out to the beach near their home in Kawela Bay and push him into little rollers. That started him on his path and love of surfing.
Kaiser has traveled to many destinations of the past 13 years. Gold Coast of Australia, Bali, Indonesia, Nicaragua, Hosssegor France, and El Salvador. He's been able to connect with other cultures and surf some amazing waves over the years.
During his high school years he surfed for the German Junior Olympic Team. His father's side comes from Germany and in 2019 Kaiser was able to obtain a German passport. This allowed him to join the German surf team and represent Germany at the 2022 ISA World Juniors Surfing Championships and the 2022 European Junior Surfing Championships.
Living at at Rocky Point on the North Shore of Oahu is something he is very grateful for. Rocky lefts is his favorite wave and you can find him there on most days surfing the Ronny Bowl or Deep Peak. Kaiser also enjoys surfing Pipeline, Velzy Land, and wherever the waves are good that day. The best waves he's surfed outside of Hawaii were Macaroni's and Snapper Rocks.
Kaisers favorite surfers are Mason Ho, Julian Wilson, Dion Agius, and Felipe Toledo to name a few.
Outside of surfing Kaiser is passionate about his education. He just graduated high school and had straight A's from 9th-12th grade. An admirable accomplishment. When he's not surfing he loves to golf. He's only been at if for about 7 months but the golf bug has bitten him and he loves it. He also loves hanging at the beach with friends and spending time with his family.
Kaiser has a progressive and powerful style that was born and bred on the North Shore of Oahu, Hawaii. A great human that loves to charge. A perfect ambassador for T&C Surfboards. We look forward to following his progress in and out of the water.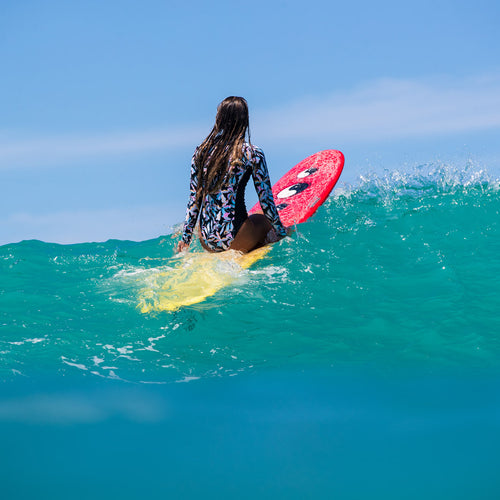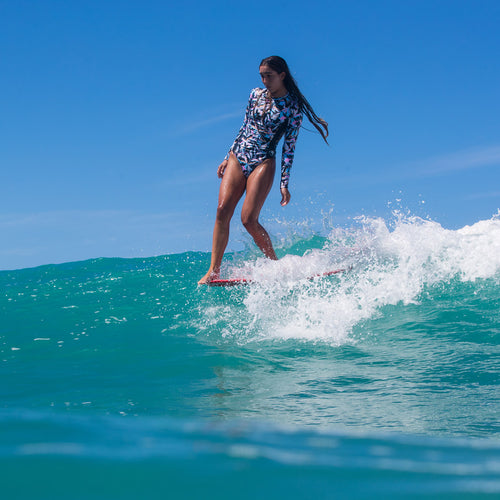 Bella Eberz
AGE:15
HOME TOWN: Waikiki, Oahu, HI
SPONSORS: T&C Surfboards & Apparel, Kelsen products
FAVORITE BOARD: Beach Girl by Tommy Tanaka
IG: @bella_eberz
Bella Eberz is a talented surfer who began surfing on the East side of Oahu before settling in Waikiki. Her home break, Queens, is conveniently located near her home, making it a dream setup. Bella's surfing style is smooth, quick, agile, and powerful. A result of drawing inspiration from the great surfers she sees on a daily basis. Among her favorite surfers, Kelis Kaleopaa and Joel Tudor are at the top of her list because of their style.
Over the past two years, Bella has made a name for herself in the HSA and NSSA circuits. She has numerous wins and impressive placements across several divisions. One of her most memorable victories was in a HSA event held at Queens for longboarding. Some of her favorite waves are Queens, Bowls, Chuns, Haleiwa, Makaha, and Cliffs. Bella has also participated in several prestigious local events like the Buffalo Big Board Classic, MOKU Noseriding Classic, and Duke's OceanFest.
Bella's association with T&C has allowed her to collaborate with Tommy Tanaka in refining the Beach Girl longboard model, as well as exploring other boards to build a versatile quiver suitable for various wave conditions. Among the boards she has tested, the Beach Girl remains her favorite. When Bella's not surfing she loves eating Mango sticky rice and enjoys playing the guitar and ukulele. Her favorite music genre is Reggae, a passion inherited from her father. Bella also loves watching the WSL shortboard division and enjoys seeing how well the Brazilians are doing on tour. Being half Brazilian on her mom's side, she feels a special connection and takes pride in their current success.
Bella's aspirations go beyond her current achievements. She is determined to continue her competitive surfing career and dreams of one day competing on the world tour for longboarding while also traveling more and riding new waves all around the world. She recognizes the importance of maintaining a balanced life by excelling in academics, giving herself future options. Bella has the drive and talent to excel in anything she pursues. We are stoked to have her on board and know she'll be a great ambassador for us wherever she goes.
Kenny Nishimoto
AGE:15
HOMETOWN: Kaimuki, Oahu, HI
SPONSORS:T&C Surfboards & Apparel, Littlehandshawaii
FAVORITE BOARDS: CMG and K1 by Glenn Pang
IG: @kennynishimoto0
Kenny Nishimoto was born and raised on the South Shore of Oahu. He is a surf stoked grom who can't get enough surf. He's always down to go. He loves surfing Ala Moana Bowls, Rockies and China Walls to name a few. But he goes where the waves go.
Kenny's favorite food is curry on rice, a solid fuel source for his many hours out in the water. When he's not surfing he loves to bodyboard, softtop, bodysurf, and skateboard. You'll also find him cutting hair; his own and his friends. He's got skills which is why his nickname is KenDawg DaBarber.
Kenny competes in both NSSA and HSA organizations since he was 11 years old. Accomplishments are 1st in Regionals, 2x 1st Ripcurl Gromsearch, 3rd USA Champioships, 3rd NSSA Nationals Open, 4th NSSA Nationals Explorer, 3rd Ripcurl Gromsearch Nationals, and his Hawaii ranking is 1st for 2022-2023. His goal is to win a National contest and win a National Title one day. Besides that his dream surf trips are the Maldives and Mentawai Islands.
Kenny draws inspiration from his local surfing buddies Rito Furuta and Neon Kasuya. He gets pumped seeing them rip at his local spots which gets him going. We can't wait to see what Kenny does in the future. We know he'll represent us well in and out of the water.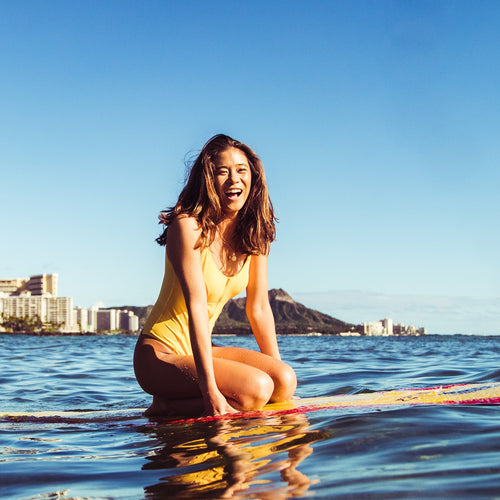 Alicia Kelley
AGE: 22
HOME TOWN: Kaneohe, Oahu, HI
SPONSORS:Town & Country Surfboards, Bodyglove
FAVORITE BOARD: Tanaka Beach Boy model
IG: @aliciiakelley
Alicia Eunhae Kelley grew up on the east side of O'ahu, with her mother and older sister in Kaneohe Bay. She graduated from Kalaheo High School in 2019. Alicia loves to surf, read books, fellowship with friends, watch movies, go on hikes, and anything to do with creativity! When she's not at Windward Community College, she's working as a lifeguard in Kailua. Her favorite foods are hard to pick but she loves Korean food, Mexican food, Hawaiian food, and fresh fish. She's open to a lot of things but prefers fresh food.
Surfers that have inspired her from a young age are Bethany Hamilton, Kelia Moniz, John John Florence, Kelly slater. Alicia admires that all these athletes showcase resilience, courage, humility, creativity, style and grace. 
Alicia's favorite T&C board is the beach girl and beach boy model which are fun single fin logs. Alicia said "The logs work so well for the waves here in Hawai'i. Tommy Tanaka is such a talented and humble surfer and shaper. I'm super stoked and grateful to be working with him on my boards!" Her sponsors are T&C Surfboards and Body Glove. 
Her smile and energy is very infectious especially when you see her in the water. You can tell she just belongs in the surf, she looks so effortless and natural. We feel blesses that she's part of the T&C ohana and spreads the stoke & aloha wherever she.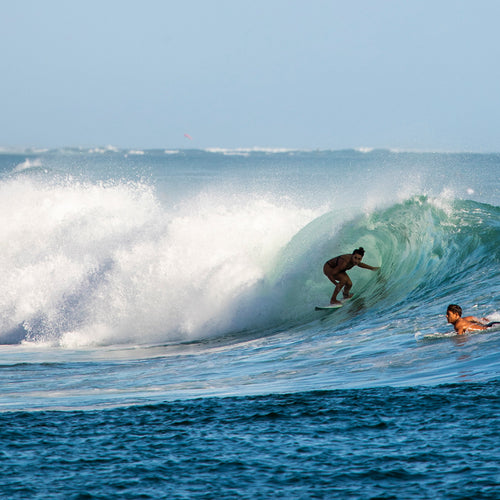 Brittany Penaroza
AGE: 22
HOMETOWN: East & Westside Oahu
SPONSORS:Town & Country Surfboards, O'Neill and Dakine
FAVORITE BOARDS: All of them!
IG: @britroza
Brittany was born and raised on the east and west sides of O'ahu. She started surfing in Waikiki with her dad at 9 years old and took to it immediately. She's now a regular face in the lineups of Ala Moana Bowls and Rocky Point.
Brittany began her competitive career by winning the Rell Sunn Menehune Championship in Makaha when she was 12. Since then, she has risen through regional ranks becoming the 2018 Explorer & Open Women's Regional Champion and back-to-back Hawaii State Champion in 2017 & 2018.
Brittany is now 22 years old and after competing on the World Qualifying Series (WQS) for 3 years has decided to shift her focus from competing toward making an impact by promoting a healthy lifestyle and environmentalism while surfing around the world. Brittany is a versatile water woman and excels at diving and surfing many different types of boards, including riding finless shapes such as an Alaia - the traditional Hawaiian surfboard.
Outside of professional surfing, Brittany coaches surfing and is studying to become a personal trainer. She wants to be able to blend her knowledge of the body with her athletic background to help people. Brittany works with a trainer regularly, and practices yoga, deep breathing exercises, and is passionate about healthy eating.
Hokulani Topping
AGE:18
HOMETOWN: Waialae/kahala
SPONSORS:Town & Country Surfboards, Banan
FAVORITE BOARD: SINR by Glenn Pang
IG: @hohohokulani
Hokulani Topping grew up on the South Shore of Oahu born to parents Sunshine and Miles Topping.
You will often see her surfing with fellow T&C team rider Ewelei Wong all over the South Shore or lounging on the beautiful beaches with her friends taking photos and having fun. Hokulani definitely has a great sense of fashion and likes to model and goof around. When she's not in the water on her SINR surfboard she can be found at the Banan shop grabbing her favorite yogurt and fruit combo. She says her favorite foods besides chocolate is either Hawaiian or Greek.
Her surfing inspiration is local Carissa Moore. Not a surprise since Hokulani is a Kewalo's local and grew up watching Carissa surf her home break.
Hokulani is a senior in highschool and is looking get her PHD. She then wants to pursue a career as a doctor. High aspirations and we love it. We look forward to seeing her continue to blossom as a surfer and human.