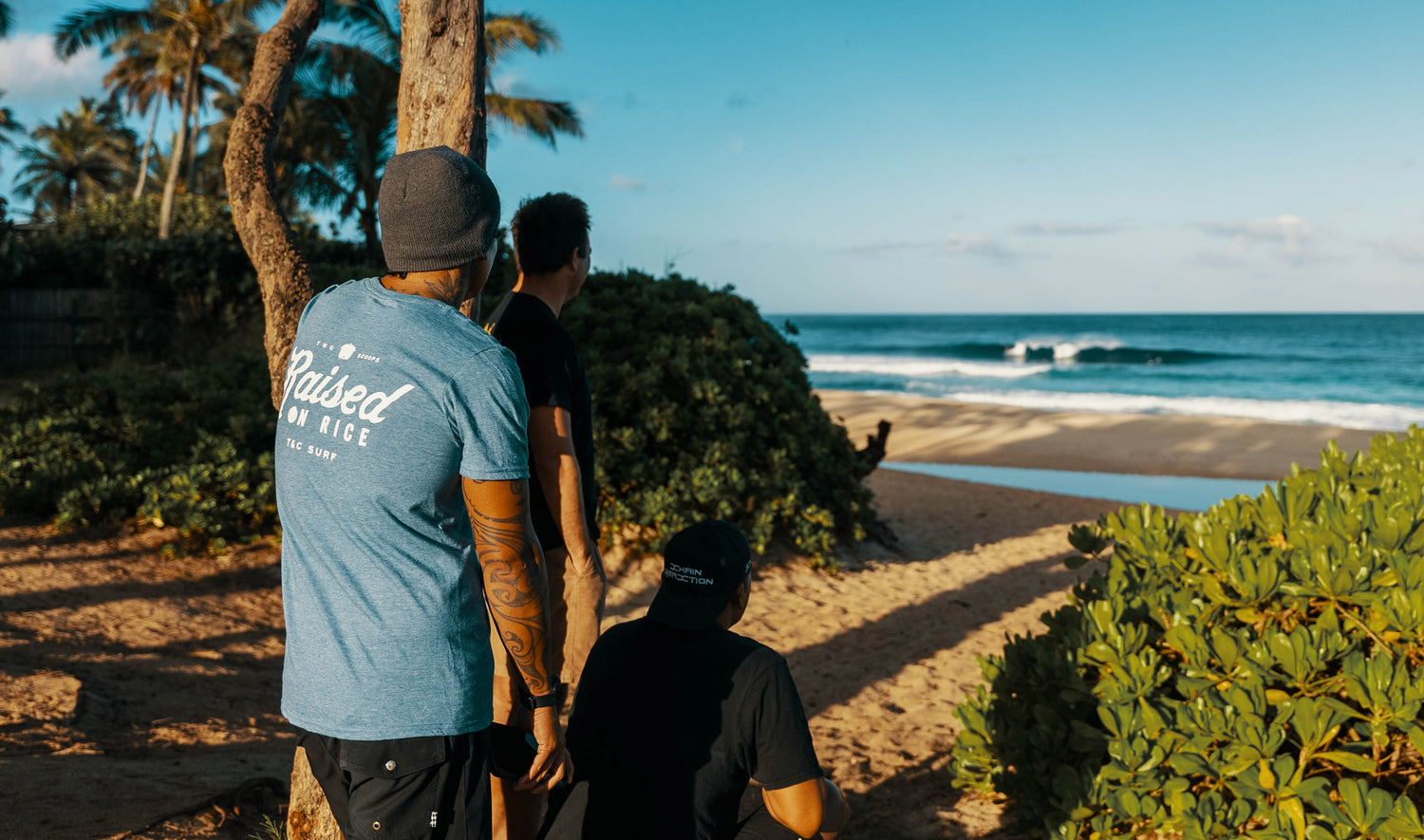 IAN MCCAULLEY
IG: @iboogielicious
Ian loves Pipeline, steep drops, and mighty duck barrel rides. Always on the hunt for hollow sections. Ian grew up in Wahiawa, Oahu, HI which is sort of half way between the North Shore and Town (Waikiki). He went to Leilehua '05.
Ian's been bodyboarding pretty much his whole life. At the age of 11 he went out at Pipeline without realizing it. He got pounded all the way to Ehukai sandbar and loved it. He dedicated his life to surfing Pipe since his freshman year and is still out there charging and learning.
Ian has a unique style, one that focuses on fun. His mighty duck barrel riding technique and cockroach smash takeoff always brings a big smile to those watching him. He's always smiling as well. Ian is well rounded and likes to go prone and dropknee. It just shows that he loves all aspects of riding a bodyboard.
He currently rides a T&C Radfish. He says it's a great board for those who like to ride both prone and dropknee. It also goes in heavy surf which suits Ian perfectly. Ian is involved heavily with the development of our bodyboards so you know they work in mellow to heavy Pipeline type waves.
Ian draws inspiration from boadyboarders such as Jarret Lau, Mike Stewart, Spencer Skipper, Jeff/Dave Hubbard and underground rider Nakana Rivera.
When Ian isn't bodyboarding you can find him fishing, riding dirt bikes, skating, bodysurfing and stand up surfing as well. He loves any food that he catches and grows himself such as fish, boars and garden veggies. It helps him feel healthy and close to the earth. His favorite is Uku and Rainbow Runner sashimi.
Ian loves all kinds of music such as reggae, rock, ska, rap to name a few. He isn't a fan of techno though. His car will be jamming Jimi Hendricks, Pink Floyd, Doors, Bob Marley and his family Damien and Stephen, Innavision with Bengali, Ooklah the Moc, Dubkonscious, honestly too many to list for Ian. Sounds like a good playlist to us.
We look forward to seeing what Ian gets into for 2022. So far a great start with Pipeline having a ton of epic days. Keep the stoke going!
DEON AHLO
IG: @_dee0n_
His full name is Deon Kametaro Pomaika'i Ahlo. His home town is Ewa Beach, James Campbell '03. Deon representing that Ewa beach life all over the island. Sometimes his pigeon is so thick you can't understand him but he's always smiling big and laughing even more. His energy is always positive and his appetite is extremely large. Watch your hands when around a table of food.
Deon has been on a boog for 20+ years. Jack Stance is his favorite way to ride. His first barrel was at Makaha Beach so that holds a special place in his heart. He loves 3rds, mysto west side spots on big swells, Off The Wall, Backdoor and Pipeline when it's not too crowded/agro. In the summer you can find him at Sandy's of course pulling into shore pound barrels. Overall he goes where the waves are good.
When he's not in the water you can find him making cars look their best through his car detailing business. He's owned and operated it for the past 6 years. He also loves spending time with his girlfriend and family members. You rarely find him traveling solo. He usually has friends and family in tow. Other hobbies are riding motocross, hiking, cliff jumping, boxing, bjj, rock climbing, spearfishing, skateboarding, and diving caves to keep his lungs in check for when the waves get big. You'll also find him filming and taking photos which helps him pay some of the bills from time to time. If you see him in the water smile, you may make one of his video cuts.
His riding influences are: Mike Stewart, Hubb brothers, Skip, Ian McCaulley, Nakana, Lackey "Lyman", K. Sasaki, Kyle Maligs, J. Lau and any of the No Friends crew. His favorite music spans the gamut. Christian rock one day to death metal the next. Roots reggae of course, some emo, country, old school Hawaiian and even Sade when the mood strikes.
He currently rides a T&C Shreddah model 41.5". Deon says it's great for dropknee, prone, barrels and throwing air revos on steep sections. A perfect all around board for his style.
He's a perfect representative for T&C and the bodyboard community. He spreads love and stoke everywhere he goes. Always crackin' jokes and making everyone feel welcome. We love that he's a T&C team member.