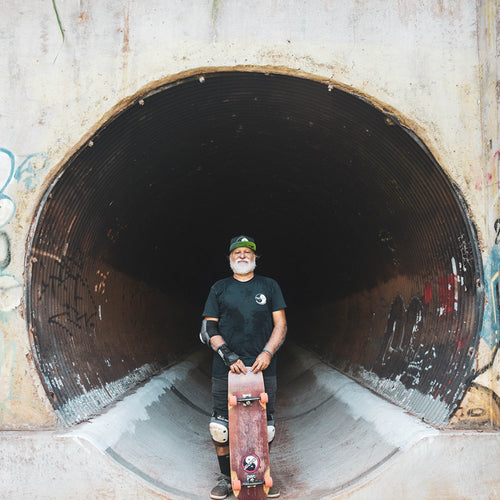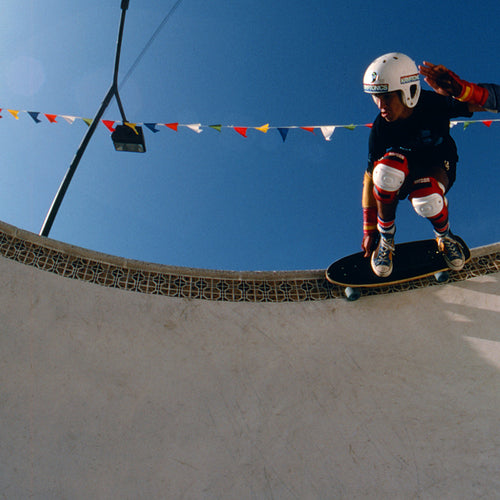 Darren Ho
OG, Darren Ho has been here since the beginning. He was T&C 's first official traveling pro back in the late 70's after the official 1st T&C pro Roy Jameison recommended Darren to Craig as a team rider.
Darren was part of the surf/skate era where Larry Bertlemann was king and all skaters where surfers first who skated when the waves were flat. So style and flow was everything for determining if a skater was good. He also saw the birth of the urethane wheels which changed the entire skate game.
Darren moved to California and was part of the crew many know as Dog Town. He was close friends with Jay Adams, who he met while Jay stayed in Hawaii for the winters surfing and skating around Oahu. Darren has many a story form those days worth asking him about if you happen to be in his presence.
The T&C skate designs sticker was highly coveted and Darren would get rushed by many at every competition and demo asking for stickers, shirts and hats. People even offering him money to grab the clothes right off his back. Darren said "it was an interesting and wild time".
T&C's first magazine cover shot came from skateboarding and not surfing. It was a surprise, but many of the top skate pros of the time stuck the T&C sticker on their boards. The cover shot showed the T&C logo prominently placed on the tail and in your face further increasing the T&C logo notoriety and demand.
Darren Ho eventually left skating and got into building custom motorcycles among many other things. Over the past several years he has gotten back into skating reviving his spirit and physical nature through his rekindled love of skating. "it's been a long , painful but rewarding road." stated Darren who is now 65. You'd never know it from his infectious smile and youthful exuberance. He's someone who carry's the stoke and spreads it to all those around him, just as Craig envisioned so many years ago when he started T&C.
We're proud and honored to have such a legend as part of our history and current crew. You can find him during early morning skate sessions at Mañana Skate Park in Pearl City or a random drainage ditch if you're lucky.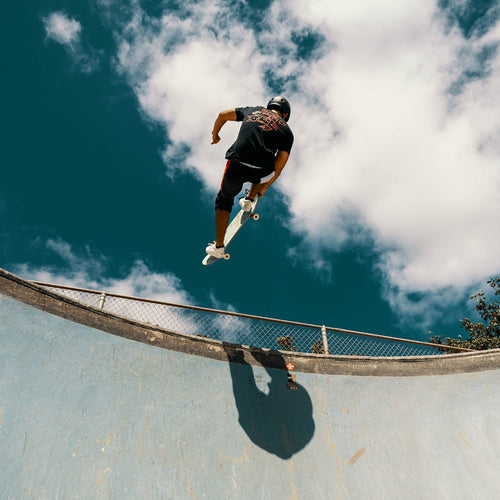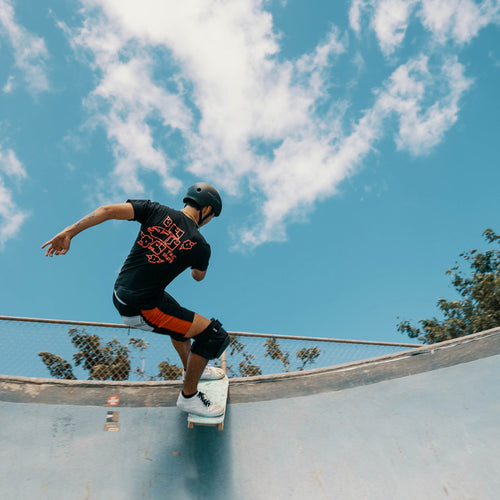 Ian Tamanaha
IG: @ian_tamanaha
Born January 20th, 2002 in Oahu, Hawaii to Ryan and Kelly Tamanaha
Ian has an older brother (Ethan) and younger sister (Kody)
He's from Mililani Mauka, Hawaii
Ian started skateboarding at age 8 at the Mililani Skatepark
Ian played baseball, soccer, and did karate as a child.
He started skateboarding as a kid because he did not like team sports and wanted a more individual activity.
Influential person that taught him how to skate was Justin Zorn, a skatepark local.
Ian's first sponsor was Predator Helmets, based out of Canada.
Current sponsors are T&C Hawaii, Predator Helmets, and Switch Skate Supply.
His first skateboard contest was a mini ramp contest at age 9.
Ian began enjoying skateboard contest because of the previous "ASH" contest series held in Hawaii.
His first contest out of state was in California, the Tim Brauch memorial contest. Ian competed in major contest including Tim Brauch, Vans combi (am tec), and vans park series.
His favorite skaters include Jimmy Wilkins, Pedro Barros, Tom Scharr, and Grant Taylor.
Ian's favorite skateparks on Oahu include Kapolei skatepark and Manana skatepark. 
Ian graduated from Hawaii Technology Academy (high school). 
One of his favorite hobbies outside of skateboarding is boxing. 
Ian's favorite cuisines include local and Japanese food. 
He has had a longtime girlfriend since freshman year of highschool (2016). 
Favorite skateboard tricks include the alley-oop backside lipslide, backside air, and frontside lip slide.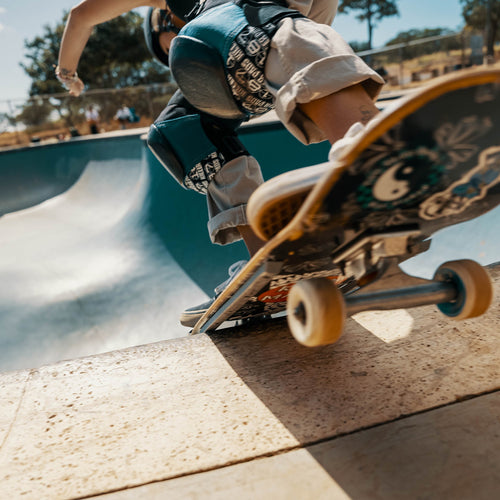 Kody Tamanaha
@kody.tamanaha
Kody was born January 21, 2004 in Mililani, Oahu, HI. 
She has 3 dogs, loki, lūlā, and robby.
She has two older brothers Ian and Ethan.
Kody started skateboarding at 6 years old because of her brothers. Her first board was from Walmart.
She graduated from Hawaii Technology Academy in 2021 in her junior year with honors.
Kody's favorite trick is backside lipslides.
She started off as goofy footed but now rides regular.
Her first broken bone wasn't from skating; it was from falling off the couch.
Kody's inspirational people are Carabeth Burnside, hunter long, and Lizzie Armantoon.
In her free time she likes to go shopping, to the beach with friends, and binge watching Netflix.
She drives a 2001 Toyota Tacoma.
She's studying for her real estate license to earn that paper.
Kody's dream place to travel is Amsterdam. First time she went out of the country was to China for the Vans park series world championships.
Favorite parks on Oahu to catch her at: Manana and Kapolei.
Her biggest accomplishment in skateboarding was creating her first pro model board (Ian helped design, Big Island Mike drew it up and finalized it, released by Christian Hosoi).
Kody states "I loveee being a girl haha. Getting my lashes done, nails done, and hair done".
Her favorite thing about going to the skatepark is spending time with her dad who also coaches Kody.
Favorite meal after a good skate sesh: chicken tenders from Raising Canes.
After every skate competition her favorite thing to do is spend time with family.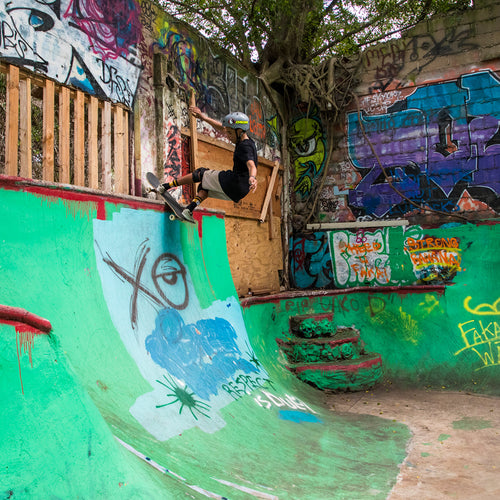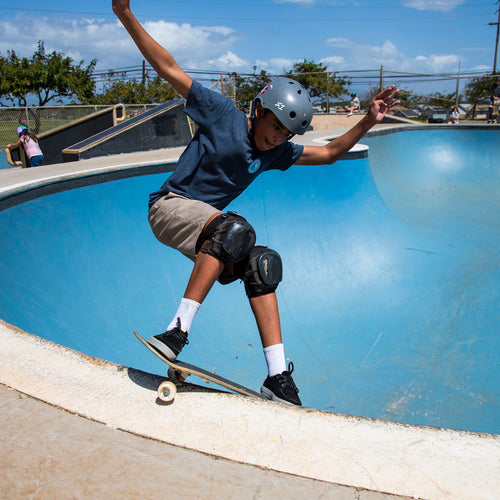 Myles Sahetapy-Engel
IG: @professor_miles
Myles was born March 20th, 2005, at Kapiolani Hospital in Oahu.
He's an only child.
Myles started skateboarding when he was 6 years old at a skate camp.
Jimmy Wilkins is one of his all time favorite skaters.
He got the nickname Professor because he used to wear glasses when he skated.
Myles mainly skates bowls and transition because he says he sucks at street.
His favorite trick is the backside smith.
Favorite park is Hawaii Kai Skatepark
All-time favorite band is Red Hot Chili Peppers.
Two things he hates are a crowded skate park or surf spot.
Myles also likes to surf and sometimes paddle.
Favorite place to surf is Kaisers in Ala Moana
The only sport he plays is water polo for his school.
He enjoys playing the bass guitar, drawing, and ceramics.
Myles has never been out of the country.
Myles plays in a band with his friend who plays guitar and his brother who is the drummer.
He has broken both his wrists, his right hand, and his right elbow. Ouch! He still has a scar on his elbow from the surgery after he broke it.
He likes his trucks loose, because loose trucks save lives.