2022 SUNSET BEACH CHAMPION
©2022 World Surf League/Tony Heff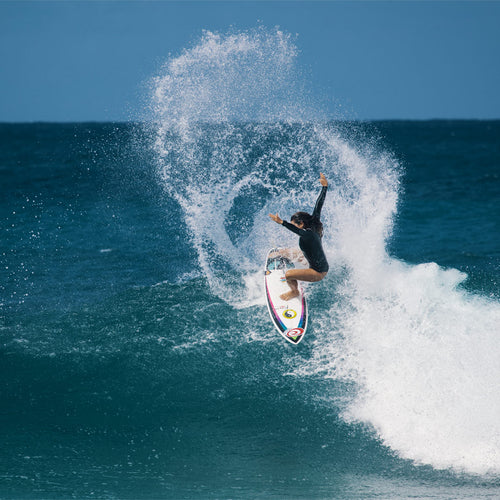 Brisa Hennessy
Brisa is currently on the Professional World Tour as world #1. She opened up the year strong in Hawaii for the start of the WSL championship tour. Her Quarter Final at Pipeline, 1st Place at Sunset Beach, and 9th at Portugal has her in 1st place wearing the yellow jersey. We can't wait to see how the year unfolds.
Brisa sets the standard as a member of our ohana. She is sweet, caring, considerate, fiercely competitive and ultra talented. She represents the T&C brand perfectly around the world and we couldn't be happier to have her as part of our ohana.
Brisa was born in Costa Rica, then transplanted to the shores of Oahu and also calls Namotu, Fiji home for the summer months. Needless to say, she has the best exposure to waves which is part of the reason she developed her talents so quickly. Her parents where surfers who followed the life so it wasn't a question that Brisa would be a water baby. We're glad she loved surfing and the ocean as much as her parents.
Brisa, has been surfing on Makani McDonald and Glenn Pang shapes with us for many years. She has helped us develop boards over the years and we've been able to fine tune our designs to fit her needs as a world elite professional surfer. A lot of what we learned with her has been passed on to the board models our customers purchase from us today.
You can find Brisa in the water most days or hanging with family and friends having a laugh. Her infectious smile draws positive energy all around her. She loves to make sushi, eat vegan ice cream and cook with her mom when she's not training.
Thank you for being a part of our ohana. We look forward to seeing your growth and we know you'll keep affecting the world with your positive energy.